Oregon Straw Hat Players presents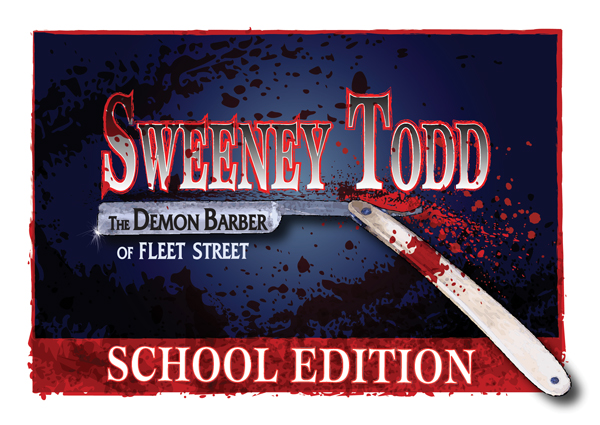 A Musical Thriller

Music and lyrics by Stephen Sondheim
Book by Hugh Wheeler
From an adaptation by Christopher Bond
Originally directed on Broadway by Harold Prince
Orchestrations by Jonathan Tunick
Originally Produced on Broadway by Richard Barr, Charles Woodward,
Robert Fryer, Mary Lea Johnson, Martin Richards
in association with Dean and Judy Manos

Directed by Jen Nichols Kapusta
Attend the tale of Sweeney Todd! An unjustly exiled barber returns to nineteenth-century London, seeking vengeance against the lecherous judge who framed him and ravaged his young wife. The road to revenge leads Todd to Mrs. Lovett, a resourceful proprietress of a failing pie shop, above which he opens a new barber practice. Mrs. Lovett's luck sharply shifts when Todd's thirst for blood inspires the integration of an ingredient into her meat pies that has the people of London lining up... and the carnage has only just begun!
Don't miss this eight-time Tony Award winning spectacle by Broadway great Stephen Sondheim featuring our youth performers.
Performances
April 2nd @ 7:30 pm
April 3rd @ 7:30 pm
April 4th @ 2 pm & 7:30 pm
April 5th @ 2 pm
Oregon Performing Arts Center
456 N. Perry Parkway
Oregon, WI
Cast
Sweeney Todd - Kyle Kapusta
Mrs. Lovett - Alexcia Johnson
Anthony Hope - Alex Daspit
Johanna - Lauren Stoneman
Lucy Barker - Leah Manicor
Judge Turpin - John Stuntebeck
Beadle Bamford - Will Karls
Tobias Ragg - Beau Jacobs
Adolfo Pirelli - Arik Zintel
Jonas Fogg - Caleb Matthias
Ensemble
Annika Baumgart, Nash Beehn, Ian Black, Jeana Bormett, Nicholas Brandenburg, Erica Briski, Lalaina Chandanais, Selma Domazet, Emma Dutcher, Amelia Dyer, Audra Dyer, Kaleb Haefner, Myk Hawkins, Adele Horton, Alison Langteau,Charlie Malueg, Drew Matheson, Brendan Moore, Miranda Moore, Ian Oakley, Matthew Powell, Hazel Ruppenthal, Tessa Schoenecker, Sophia Wanta
Sweeney Todd School Edition
Is presented through special arrangement with Music Theatre International (MTI).
All authorized performance materials are also supplied by MTI.
www.MTIShows.com