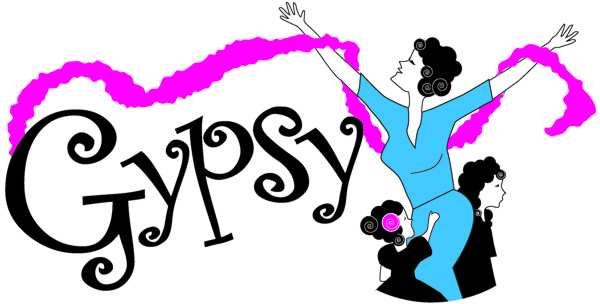 Book by Arthur Laurents
Music by Jule Styne
Lyrics by Stephen Sondheim
Suggested by memoirs of Gypsy Rose Lee
Entire production originally directed and choreographed by Jerome Robbins.
Directed by David Lawver
August 9-16, 2014
Oregon School District Performing Arts Center
456 N. Perry Parkway, Oregon, WI 53575
The trailer, for sentiment's sake.
Gypsy TRAILER (2014) from Rob Matsushita on Vimeo.
The ultimate story about an aggressive stage mother. Join Rose, June,
and Louise in their trip across the United States during the 1920's,
when vaudeville was dying and burlesque was born. Jule Styne's music
and Stephen Sondheim's lyrics include "Let Me Entertain You,"
"Some People," "You'll Never Get Away from Me," "If Momma Was Married,"
"All I Need Is the Girl," "Everything's Coming Up Roses," "You Gotta
Get A Gimmick", and "Together Wherever We Go." This is a gripping
story of one of the most fascinating aspects of show business.
Staff
Producer - Alexander Smith
Choreographer - Julie Wood
Choreographer's Assistant - Katie Monk
Set Designer, Vocal Coach, Pianist - Duane Draper
Set Design Assistant - Mike Maloney
Lighting Designer - Matt Albrecht
Sound Designer - Paul Cargill
Hair and Makeup Designer - Tarah Crary
Hair and Makeup Assistant - Jen Nichols Kapusta
Master Carpenter - Mike Gorman
Wardrobe Assistants - Terri Fulton, Janine Gardner
Conductor and Orchestra Contractor - Laurie Fellenz
Props Coordinators - Erin, Glen, Katie, and Sue Milleville
Publicity Coordinator - Steve Schumacher
House Manager - Patty Fitzgerald
Tickets Manager - Evan Fitzgerald
Photographers - Wade Crary, Sarah Kleemann
Crew - Sarah Najdowski, Rebekkah Schultz, Nat Soucie-Porter, Jonas Temte, Liz Temte, John Unertl IV
Costumes Designed by Thomas G. Marquez
Provided by Music Theatre of Wichita
This project is supported by Dane Arts with additional funding from the Pleasant T. Rowland Foundation.
Rehearsals
Click here for the current rehearsal schedule. Remember that this schedule is tentative and subject to frequent change. Please check back often and stay flexible.
Company Ticket Sales
Remember, people come to community theatre because they know someone in the cast!

We will have more company sales at these times:
Wednesday, July 16, **CHANGE** in the middle of rehearsal
Sunday, July 20, in the middle of rehearsal
Monday, July 28, starting at 6:45 pm

Remember that OSHP has lower service charges for these sales so any time you can buy for your friends it really helps. Checks and exact change preferred.

Thanks for all your efforts.
Gypsy Resources
Click here for a breakdown of the characters in the show.
Staff resources
Expense reporting and reimbursement form
Printing currently problematic. You may need to save, then print.