OSHP proudly presents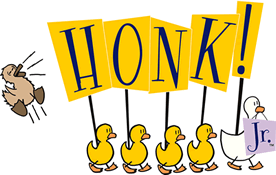 Directed by Chris Phistry
Produced by Dana Stein
Honk! Junior is a contemporary retelling of
Hans Christian Andersen's "The Ugly Duckling" and features
a fun, modern score that kids everywhere will enjoy.

March 23, 24, 29, 30, 31 @ 7:30 p.m.
March 24, 31 @ 3:00 p.m.
(Matinee performances are nearly sold out - please call 835-9126 to check availability.)
Prairie View Elementary School Little Theater
300 Soden Dr. Oregon WI 53575

$10 adults / $8 students & seniors
(general admission)
TICKETS NOW AVAILABLE!!

Ticket ordering instructions:
1. Click here to download the ticket order form. (Requires MS Word.)
2. Fill out the form in Word and SAVE IT TO YOUR COMPUTER.
3. E-mail the form you just saved to Karen_Weber@hotmail.com.
If you have trouble downloading the form, you may also order tickets by calling (608) 835-9126.
CAST
Ugly: R.J. Heim
Ida: Olivia Crary
Drake: Nathan Fosbinder
Ducklings/Froglets: Mariah Martin, Renee Lewandowski, Jamie Wood, Bella Newman
Maureen: Dee Dee Dallmann
The Cat: Sami Elmer
Greylag: Michelle Granton
Dot/Jay Bird: MC Tilton
Barnacles/Mother Swan: Caitlin Shirk
Snowy/Father Swan/Blizzard: Erica Nett
Pinkfoot/Bewick: Kristin Nett
The Bullfrog: Willy Subach
Penny: Tiffany Root
Grace: Allison Weber
The Turkey/The Girl (voice): Abbie Milski
Henrietta: Hilary Carpenter
*Click here to go to MTI's "Honk Jr." page.*
Honk Jr. Rehearsal Schedule (cast and crew)