OSHP presents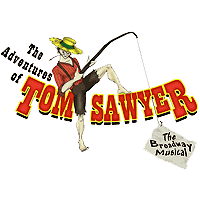 Performance Dates:
Aug. 19, 24, 25, 26 @ 8pm
Aug. 20, 26 @ 3pm
*Click below for directions to the Oregon Area Performing Arts Center*

Directions to 456 N Perry Pkwy
Oregon, WI 53575-1230
Mark Twain's classic story comes to exuberant musical life in this Broadway adaptation of America's favorite book. "The Adventures Of Tom Sawyer" is the irresistible story of a young boy growing up in the heartland of America. In the course of the story, Tom matches wits with his stern Aunt Polly, and goes on the adventure of his life with his true love Becky Thatcher and that irresistible renegade, Huckleberry Finn. Along the way we meet a terrifying villain named Injun Joe, Tom's bratty half-brother Sid, and many other colorful characters in the village.
The score includes everything from foot stompin' hoedowns to beautiful heartfelt ballads. To hear musical snippets from the show, follow the link below to MTI's "Tom Sawyer" webpage and click on "Song List".
*Click here to see publicity photos*
*Click here to see pictures from Oregon's Summerfest Parade*
Visit MTI's Adventures of Tom Sawyer webpage.